Did you know that homes with an outdoor living space sell faster and for more money than those without? An outdoor pizza oven alone can add up to 3.4% to a home's value on the market. Most importantly, when you add covered outdoor living space to your design,  you create the perfect place for entertaining or relaxing outside.
We've put together some of our best ideas to get you started planning the perfect outdoor space for your home.
Outdoor Fire Pits
Adding a fireplace or custom fire pit makes gathering outside with friends and family a special occasion any time of year. And if you choose an option fueled by natural gas, creating the perfect ambiance is as easy as pushing a button. Whether it's made of wood, stone, or topped with shimmering pieces of colorful glass, an outdoor fire feature adds a dose of class to your outdoor living area.
Patios
You can customize any of our floor plans to include a  covered patio. Extending your roofline to cover the patio will make your outdoor living areas feel more like a living room and extension of your home. For homeowners with a green thumb, start growing ivy and vining plants over trellises for a whimsical lounge that would be at home in a fairy tale.
No matter the materials you choose for the upgrades, nights spent in your outdoor living space will feel peaceful and romantic.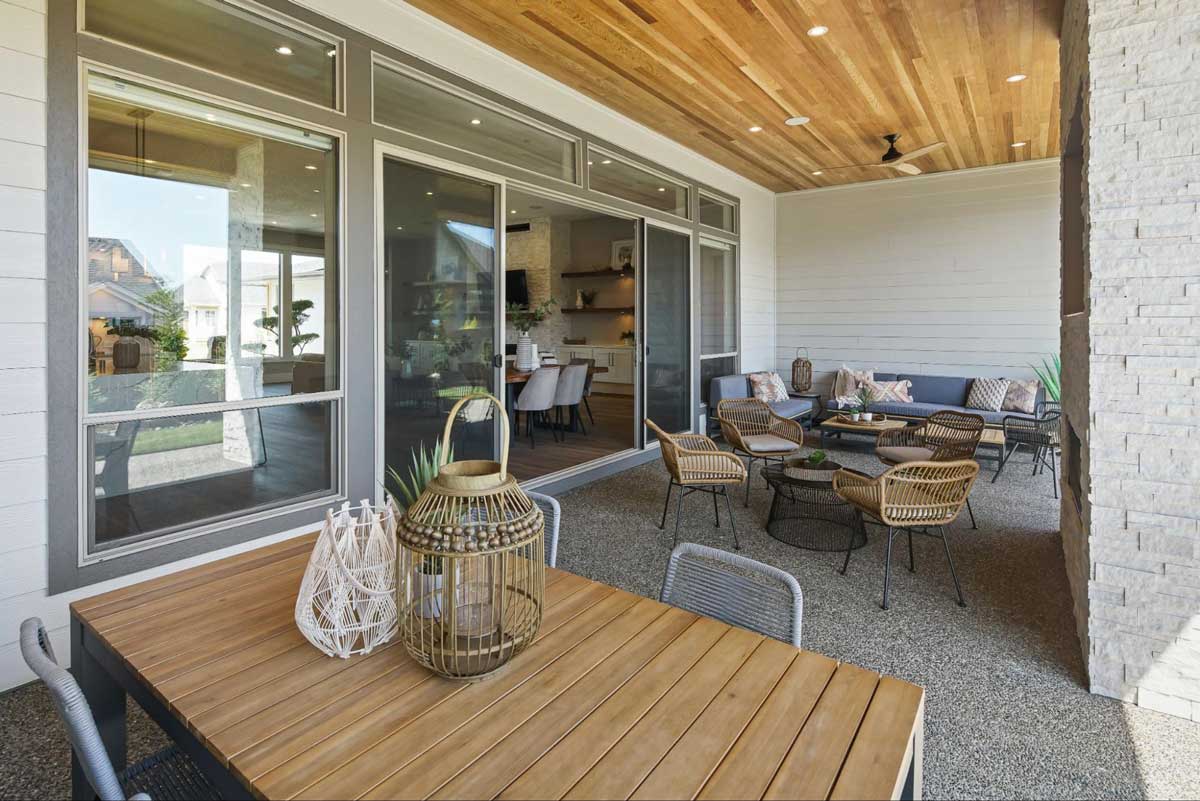 Outdoor Kitchens
An outdoor kitchen is every chef's dream. And for grill masters, having a built-in grill with countertops and storage space means you can keep everything needed for cooking and eating outside within arms reach.
Not satisfied with just a grill? Your dream outdoor kitchen can include:
Fridges for drinks and ingredients
L-shaped bars for socializing
Outdoor pizza ovens for freshly-made Italian treats
Wine Coolers
Kegerators
With options like that, it's no wonder over 50% of today's homeowners opt for an outdoor kitchen.
Outdoor Dining Rooms
Whether you have an outdoor kitchen or not, you'll love having an outdoor dining room. To do this, simply use a section of your existing patio to create a refined dining experience. But what's the difference between an outdoor dining room and a patio with a big table?
Well, no luxury dining experience is complete without mood-setting lighting. We recommend natural gas-powered sconces to add a beautiful flickering ambient light. But overhead bistro lighting paired with candlelight will also create an intimate dining experience. Having the proper lighting will transform your outdoor dining area into an elegant dining hall no matter what you choose.
Another tip defining your outdoor dining space is to add an outdoor rug under the dining table. Most of all, don't forget to add your own personality to the mix of things to create a unique and inviting place to dine.
Garden Gazebos
If you're planning a custom home on a large lot, you'll want to use it to its fullest potential. A gazebo will turn your property into a secret garden when paired with custom landscaping. With plenty of shade and counters for outdoor dining, a gazebo will be everyone's favorite outdoor book nook.
Let Kingston Homes Make Your Outdoor Living Dreams Come True
Kingston Homes' luxurious custom homes line the streets of five of Camas and Vancouver, Washington's most sought-after neighborhoods. Whether you'd like to move into one of our move-in-ready luxury homes or create a new home on a site of your choice, let our team of designers and architects create one tailored to you and your outdoor living space dreams. For more information, contact us today.