Over the past year, we've spent more time at home than quite possibly any other time in our lives. And with so many of us settling into making that the norm for our lives, creating spaces that provide what we need aesthetically and energetically has become essential. One of the main spaces most people want to rethink is their primary bathroom. With that in mind, we've pulled together some of the most popular primary bathroom design trends to help you customize your space.
Backlit Mirrors

Backlit mirrors became a popular trend last year, with their use continuing to rise in 2021.  According to Houzz, three out of four homeowners install new mirrors during a primary bathroom renovation, and most are choosing lighted models. There are a couple of reasons these have become the mirror of choice. They provide ambient lighting without the glare and, when dimmed, can double as a night light. The second is their functionality. A backlit mirror creates a soft glowing effect when lit, giving the illusion of floating on the wall. When intentionally placed, you can use a backlit mirror to highlight a textured or tile wall.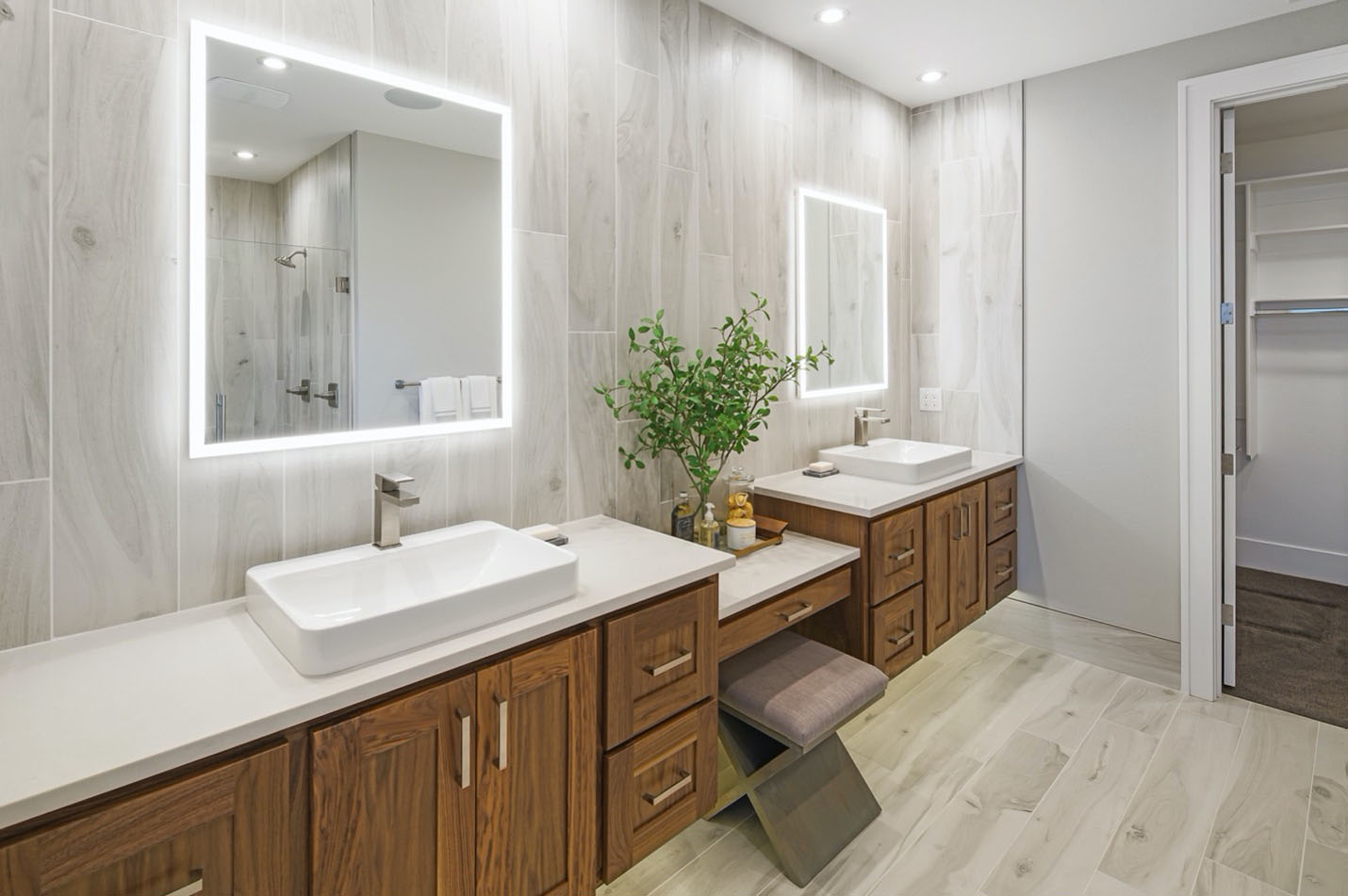 Quartz Countertops
Did you know that quartz is one of the hardest materials known to exist and extremely difficult to scratch or stain, making it one of the easiest finishes to maintain? As we continue to pay greater attention to clean surfaces, quartz countertops have become a popular choice for consumers. And because quartz is naturally non-porous, it's less likely to foster the growth of bacteria. Quartz is also a popular choice amongst interior designers due to its durability and clean aesthetic.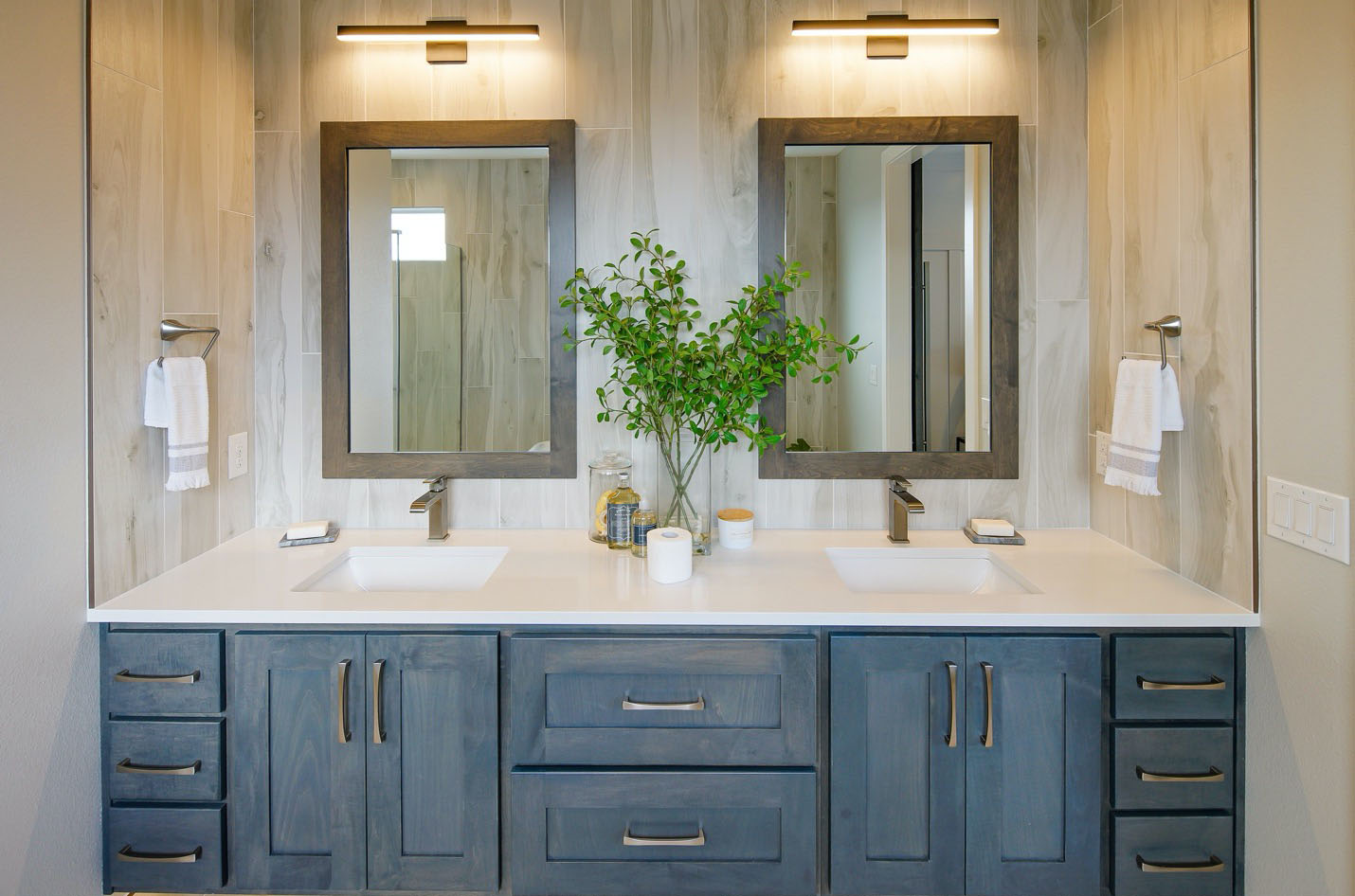 Stone or Wood Planked Tile Floors
Bring the day spa to your primary bathroom by incorporating wood plank porcelain tile or stone floors. These floors provide a clean rustic feel to your bathroom, especially when paired with an oversized soaking tub and wood accents.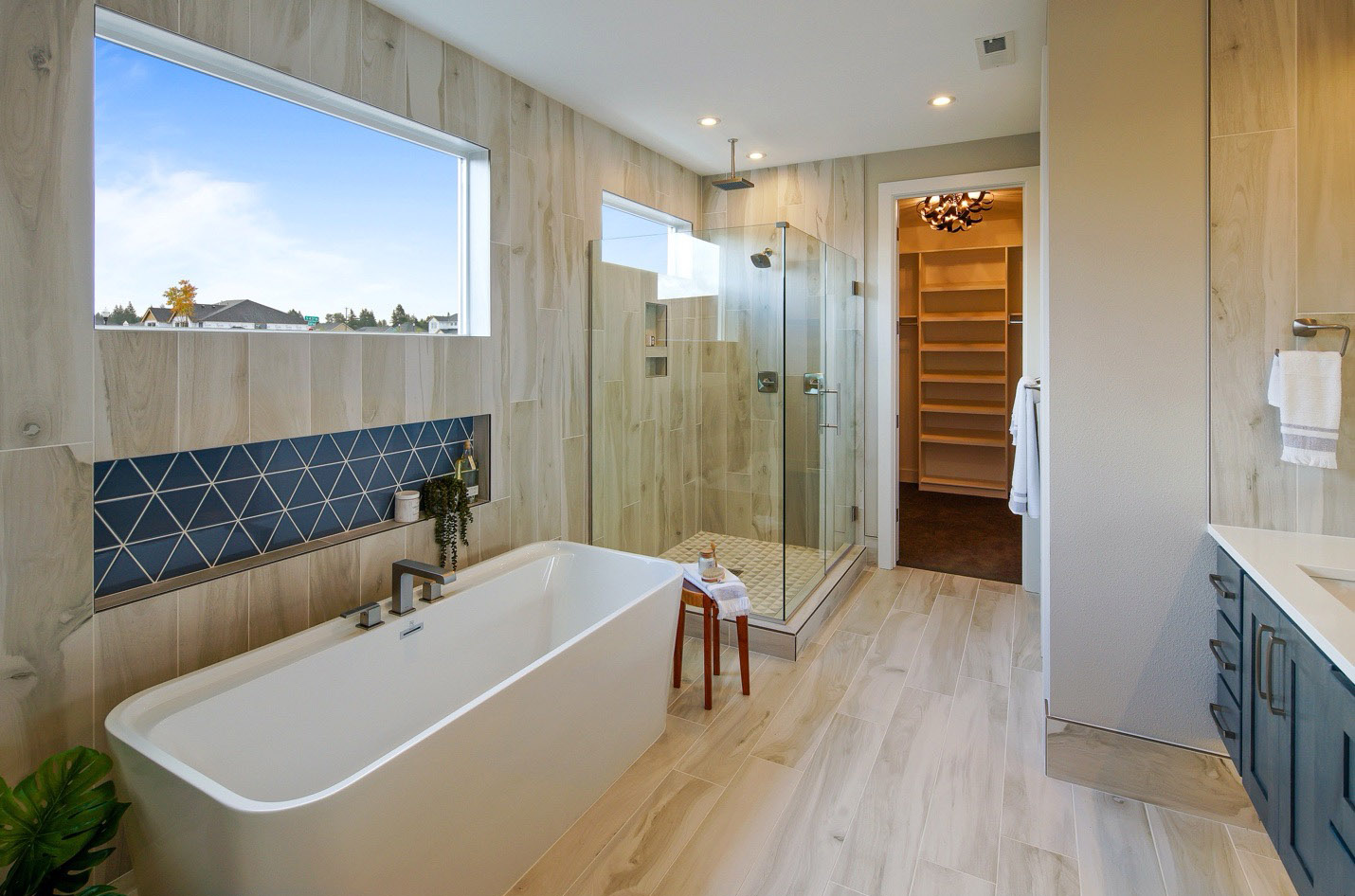 Large-format Wall Tiles
Larger format wall tiles are a popular choice for 2021 and lend themselves to modern home design creating a clean look with fewer grout lines. Because large tiles give the illusion of more space, they are a perfect choice for your bathroom. They make showers appear to be larger and create a clean feel. And with fewer grout lines, cleaning your bathroom will be easier than you know.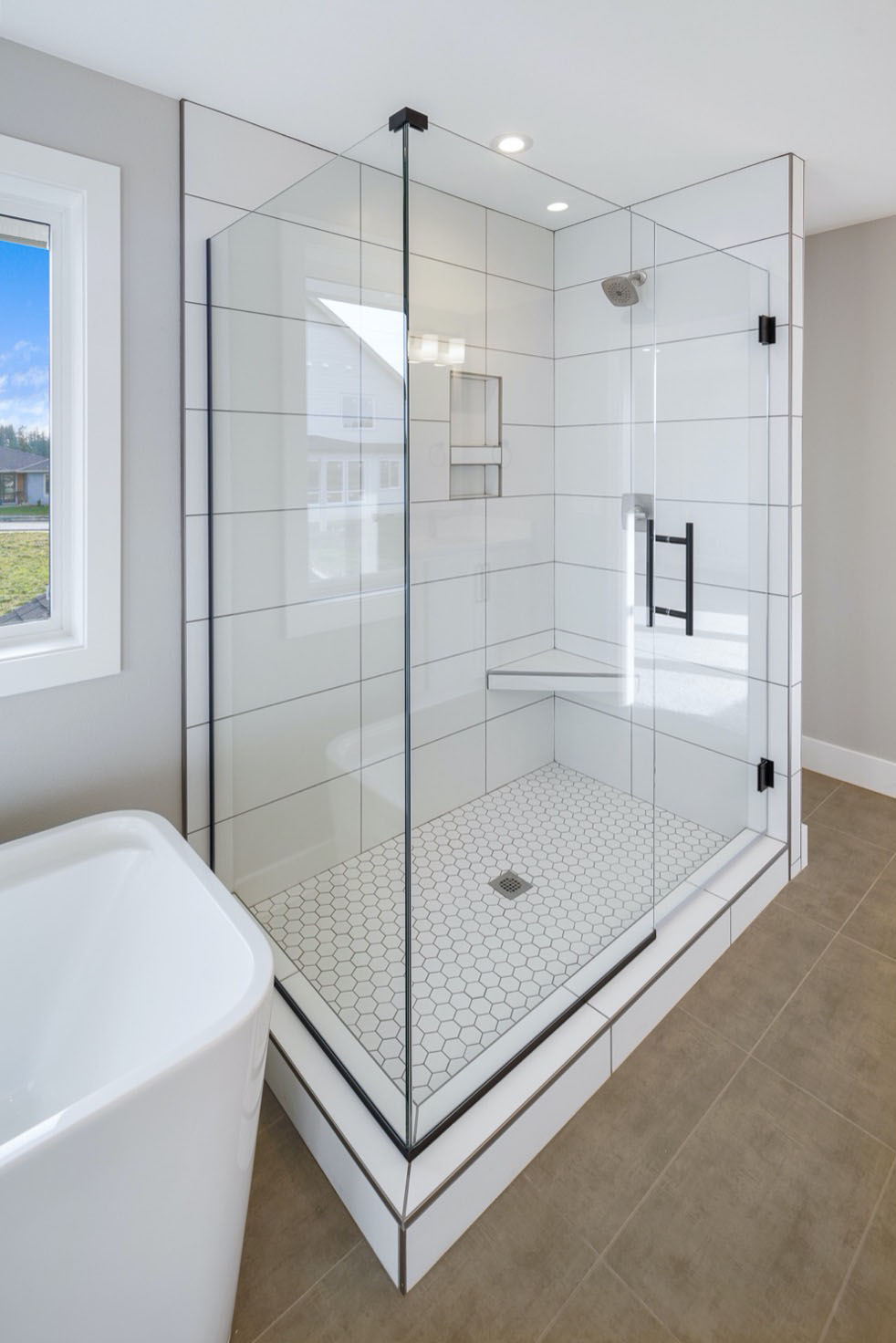 Floating Bathroom Vanities
Floating vanities are an undying trend for any bathroom design. Their sleek minimalistic look makes them a popular choice in modern and luxury home design.  Like large format-wall tiles, floating vanities give the illusion of more space because the floor space is open underneath the vanity. Some designers use this space to place bathroom accents like functional baskets or lighting.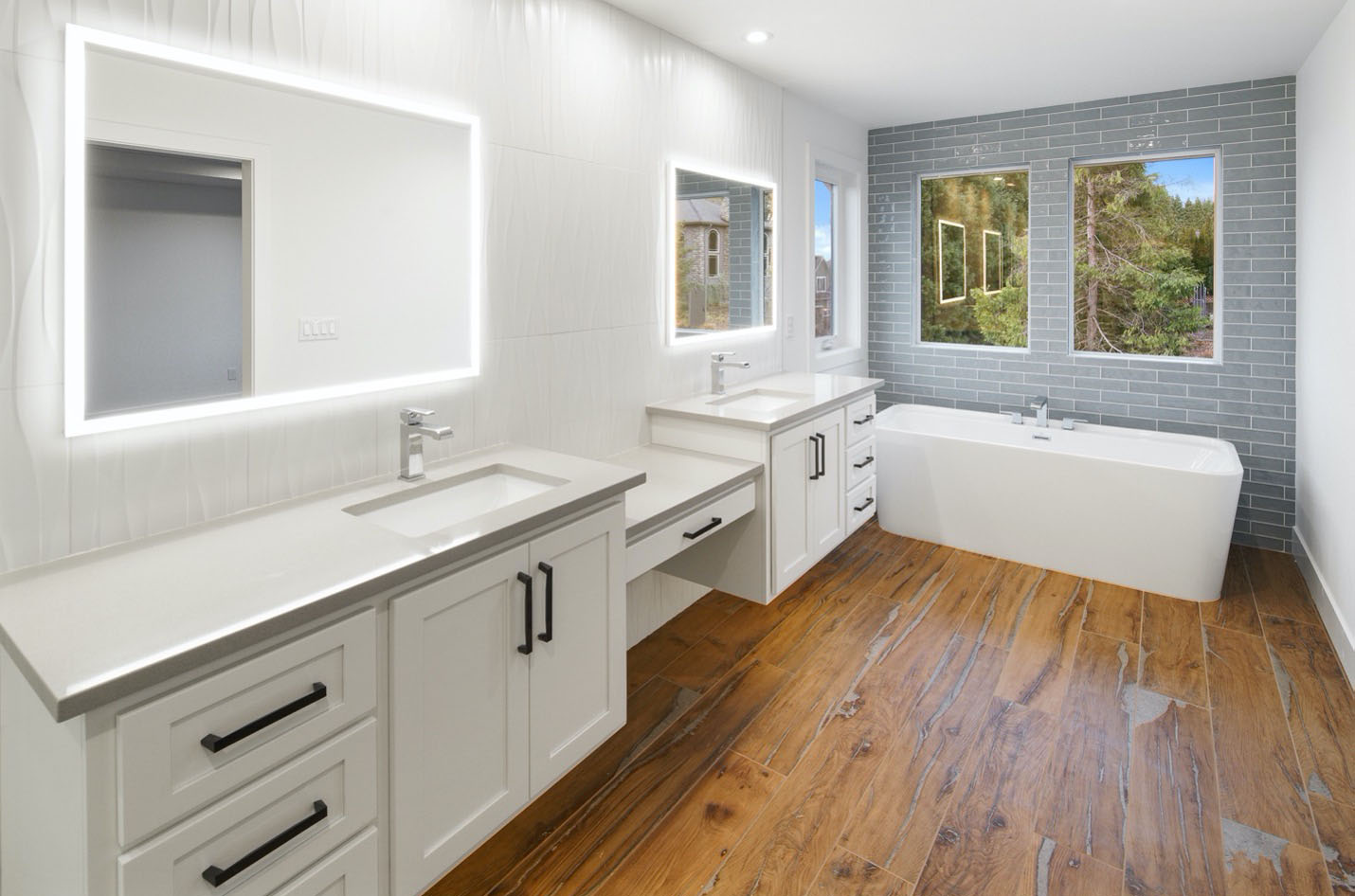 Colored Fixtures
Add a little color to your bathroom design with colored fixtures. A popular trend is a monochromatic look using black fixtures. And yes, gold is also on the rise, with interior designers choosing simple gold fixtures in their bathroom designs. Depending on your color palette, you may even find brass or gunmetal grey to be the perfect choice for you. No matter which option you choose, adding a little color can make your bathroom unique.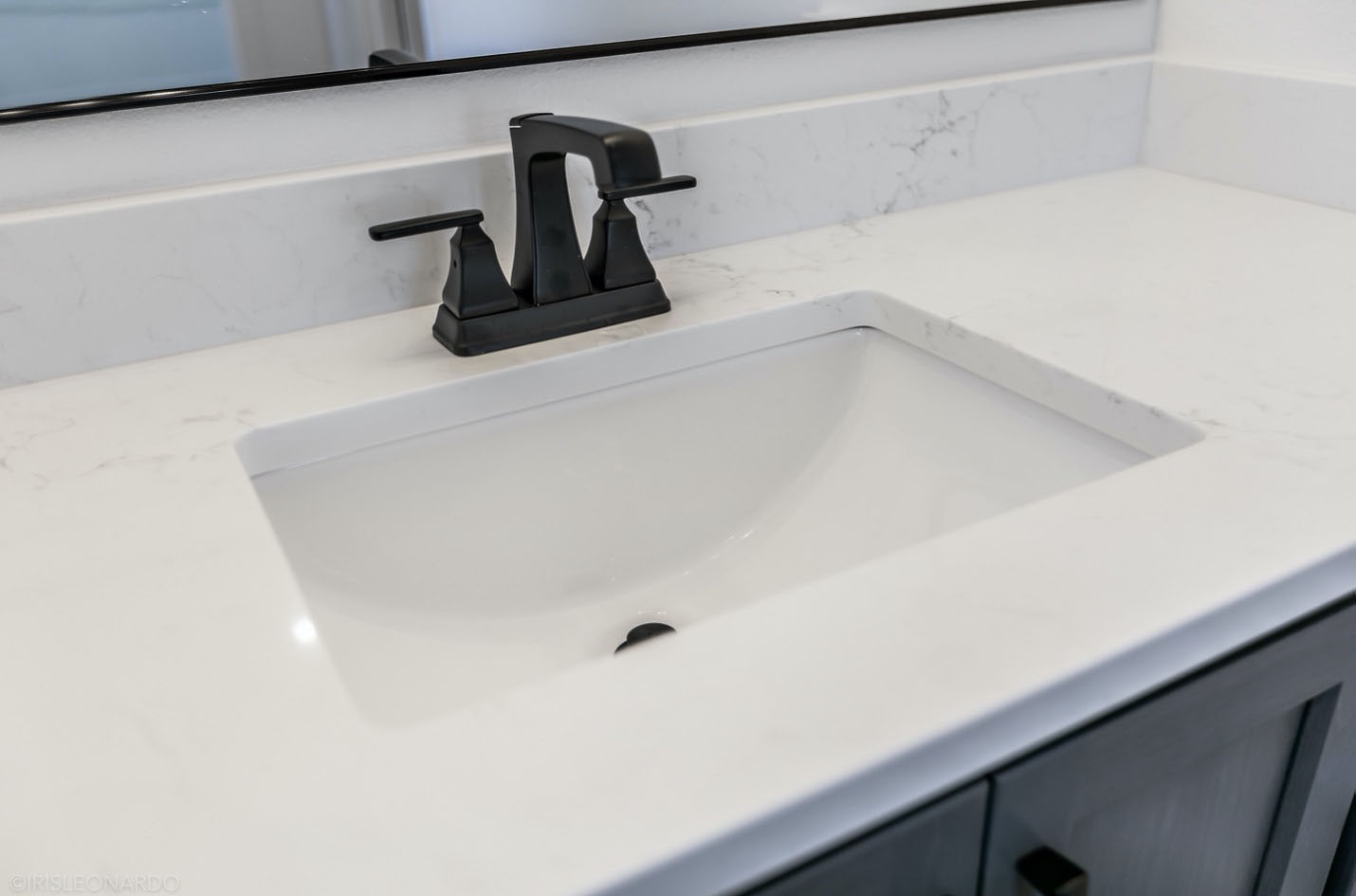 Whether you're looking for modern or trendy bathroom designs, any of these choices are sure to help you pull your concept together. Need more inspiration?  Browse our gallery to see some of our latest interior designs.